Professional Milledgeville Pressure Washing & Roof Cleaning
Top Rated Residential and Commercial Exterior Cleaning Services in Milledgeville, GA
Milledgeville turns to Extreme Clean of Georgia, Inc. for pressure washing and roof cleaning. We offer a complete range of residential and commercial services throughout Milledgeville, GA. We live and work in central Georgia, so we know the kinds of cleaning that needs to be done.
Our commercial pressure washing uses heat and effective cleaners to thoroughly clean the most stubborn stains, such as oil stains in garages or grease from dumpster pads. We clean business entrances, walkways, drive thrus, parking lots and other services. This is crucial because customers judge businesses by how good they look.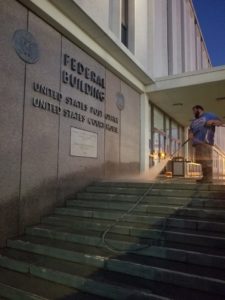 A historic city like Milledgeville has many significant buildings. They need cleaning like any other structures, but great care has to be taken. Extreme Clean's residential service uses a soft cleaning technique that does not damage siding, wood or paint the way high pressure can. We clean porches, fences, sheds, and patios. The chemical cleaners we use are environmentally safe.
Top Rated Roof Cleaning Milledgeville Residents Trust
Roofs in Georgia can become unappealing surprisingly quickly. The hot and humid summers are ideal for the buildup of algae, mildew and mold. Add dirt, dust and debris from storms and you understand the need to regularly clean roofs. Extreme Clean is extremely good at roof cleaning, one of our specialties.
Our soft cleaning treats roofs with care, and our cleaners target and eliminate mold and algae. Regularly cleaned roofs last longer and function better. They also look much better, which adds to curb appeal and preserves property value.
Extreme Clean offers other services in Milledgeville. We do clean-ups for builders and contractors. We pressure wash heavy equipment and company fleets. We work with property managers and condo associations. We restore wood surfaces such as fences and decks, including staining and sealing.
One of our clients says that Extreme Clean is "prompt, polite and professional. Can't get any better than that." We couldn't say it better ourselves!
Contact us today!
GET A FREE QUOTE