Professional Gray Pressure Washing & Roof Cleaning
Residential and Commercial Exterior Cleaning Services in Gray, GA
Extreme Clean of Georgia offers a full range of residential and commercial pressure washing and roof cleaning services. We are proud to be a premier exterior cleaning company in Gray, GA and the surrounding areas.
Our commercial customers need many pressure washing services, including cleaning sidewalks, walkways, dumpster pads, parking spaces and bank and restaurant drive thrus. Our surface cleaning uses hot water and effective cleansers to eliminate the most stubborn problems such as oil or grease stains on concrete. Customers often judge a business by how clean it looks from the outside, so our cleaning is good for your business. We also clean heavy equipment, clean up after construction and clean parking lots.
Extreme Clean's residential services use a lower pressure soft washing procedure that does not damage siding or paint the way high pressure methods can. Our soft washing uses environmentally safe cleansers that are extremely effective on the algae, mold and the grime that a Georgia summer can inflict on a home. We wash porches, sheds, fences, patios, outbuildings, drives and walks.
Top Rated Roof Cleaning Gray Residents Trust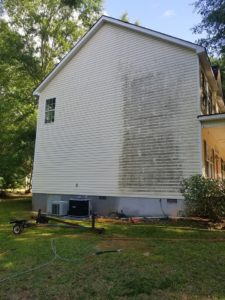 Cleaning roofs is one of our specialties. The soft washing we use on roofs cleans without causing damage. Regularly cleaned roofs last longer, and by looking good, maintain property value. Central Georgia's climate favors the development of algae that can actually damage some kinds of roofing.We clean both residential and commercial roofs. Your customers may not actually see your roof, but keeping it clean helps prevent leaks and the buildup of debris that can sometimes cause a health hazard.
Extreme Clean of Georgia offers businesses and residents in Gray many other services. We restore wood surfaces, such as decks and fences, including stain and sealing. We clean gutter systems, grout and tile, and restaurant kitchens. We'll remove graffiti and bubble gum, and oil and gas stains from garages. We're fully licensed and insured. Extreme Clean is extremely good. Give us a call about your cleaning project. We do free estimates!
Contact us today!
GET A FREE QUOTE