Professional Eatonton Pressure Washing & Roof Cleaning
Serving Eatonton's Residential and Commercial Properties!
Eatonton turns to Extreme Clean of Georgia, Inc. for its pressure washing and roof cleaning needs. We're a local firm that knows central Georgia well. We provide a full range of commercial and residential pressure cleaning services.
We do a wide range of commercial pressure washing projects. Customers judge businesses by the way they look, so it's critical that walkways, drives, store entrances, and bank and fast food drive thrus look clean and inviting. Extreme Clean's pressure washing uses heat and effective cleansers to remove stubborn oil stains and other grime from parking lots and garages.
Our residential pressure washing uses a soft cleaning technique that uses low pressure, eliminating the possible damage that high pressure can do to siding, paint and other surfaces. The chemical cleaners we use are environmentally safe, and target algae and mildew. We clean siding, patios, fences, porches and outbuildings.
Roof Cleaning Eatonton Experts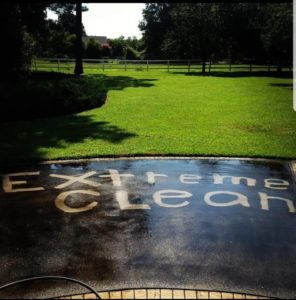 Roofs are especially vulnerable to conditions created by the Georgia climate, including pollen, storm debris, and especially algae, mold and mildew. These can not only make a roof look unsightly, they can actually cause damage to some kinds of roofing. Regularly cleaned roofs have a longer life, look better and function better. Extreme Clean is extremely good at cleaning roofs and other surfaces. We know what and how to clean them. We live here, too.
Our clients in Eatonton GA include gas stations, older and new homes, and restaurants. We've cleaned your neighbor's roof, washed their siding and walkways, cleaned their gutters and restored their decks. We'll clean yours, too. Give us a call.
Extreme Clean provides Eatonton a number of other services. We restore wood surfaces such as decks and fences, including staining and sealing. We do clean ups after construction or remodeling projects for builders and contractors. We pressure clean heavy equipment and commercial fleets. We work with condo associations and property managers. We offer free quotes!
GET A FREE QUOTE